Jan 2, 2022 01:27 PM Central
Marie Doherty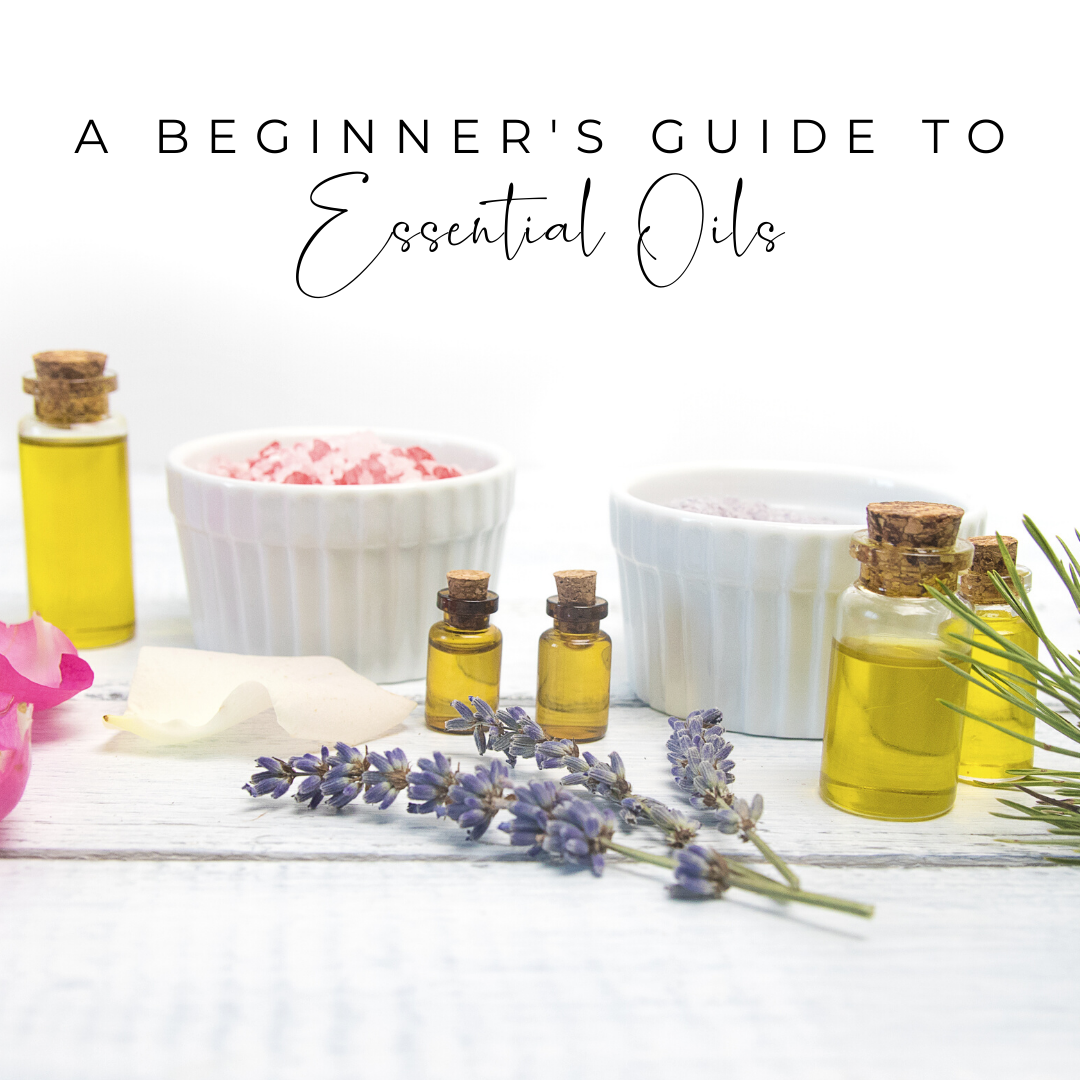 If you've wanted to get into essential oils and learn all about how to use them, you're in the right place. Essential oils can have lots of health benefits - they can help with pain management, skin issues, and even stress. They are also in many cosmetic products and perfumes. In this Beginner's Guide to Essential Oils, you'll learn the basics as well as tips to get you started.
Essential oils are directly extracted from plants and are known for their pleasant smells and amazing properties. Some of the most common include lavender, peppermint, tea tree, or rose. Unlike the oils you might be thinking of, essential oils evaporate without leaving behind a sticky residue.
They're commonly used in aromatherapy and have lots of health benefits. You might have heard of aromatherapy, a holistic treatment that relies on essential oils to help with pain, skin irritation, digestive issues, or even anxiety. This centuries-old form of treating medical and mental problems relies on natural remedies and avoids processed ingredients.
Some people even claim that essential oils can help cure severe illnesses. However, the scientific evidence is primarily inconclusive. Whether you believe in the power of essential oils or not, no one can deny that they smell incredible and can have many benefits.
What's the history behind them?
Thousands of years ago, the ancient Egyptians extracted cedar oil and other plant fragrances in complicated distillation processes, and the Romans loved to use essential oils for their elaborate perfumes. There is evidence of many ancient cultures in countries such as China, India, Persia, and Greece using essential oils, although the exact oils they utilised and for what purposes can be hard to trace.
Aromatherapy is, therefore, a centuries-old tradition perfected in different areas around the globe. Its history is what convinced many users of essential oils of their effectiveness.
Why are they now popular?
Essential oils are very versatile and can be used in different ways depending on their type and properties. The most common use of essential oils is probably for fragrances in the cosmetics and perfume industry but the medical use of essential oils is also not to be underestimated.
Since many synthetic medications can have harmful effects on organs and the body in general, more and more people are turning to essential oils because they are 100% plant based. In addition to that, essential oils can reach the bloodstream and human tissues through skin contact or inhalation, while other medications often require time to take effect.
Aromatherapy is steadily becoming more and more popular and is said to have benefits for many types of issues.
What are some of the most common ones, and what ways are they used?
The most common essential oils include:
Peppermint to stimulate digestion
Tea Tree Oil to strengthen your immune system and can also help with infections
Eucalyptus to help with respiratory problems
Lemon Oil, a popular choice, to help with headaches and mood swings
Lavender oil which can help you relieve stress, and rose oil which can be helpful for anxiety, are also commonly used.
What are some other benefits of using essential oils?
Essential oils are said to have many medical benefits, but you can also use them as a pure fragrance for your home or laundry, for example. High-quality cosmetic products often contain essential oils and use them as a natural scent.
Citronella oil can, for example, act as a natural insect repellent; thus, it's a great alternative to a traditional mosquito spray, which is usually full of toxic ingredients. Plus, it smells much better, so it's a win-win!
What should you know or watch out for when buying them?
Always make sure that the products are labeled "pure essential oils" to avoid processed ingredients. High prices don't always ensure high quality, so do your research on different brands and only buy essential oils from reputable stores, especially when shopping online.
Before you buy your first essential oil, you should, of course, consider what problem you're trying to solve. There are so many different ones to choose from, and each will have varying effects.
Always consult a doctor or medical professional before you begin using essential oils. If you're taking other medication alongside them, you might encounter unexpected side effects. You should also patch-test before applying essential oils to your skin to ensure you're not allergic to any ingredients.
Avoid buying oils labeled "essential oil of..." which won't be a pure, natural product. Also, remember that essential oils are not a replacement for certain medications you might be taking. Before trying an essential oil, speak to your doctor and don't try to self-diagnose without a trained professional's opinion.
I only ever use Young Living essential oils which I know are very pure. Contact me if you want to try them out
Ready to give essential oils a try?
Essential oils can help with many different issues such as anxiety, headaches, nausea, and mood swings. Their effectiveness is not without controversy, but they are often praised for being all-natural and an excellent alternative for avoiding medicine with many side effects.
They can be used and applied safely if you consult a doctor first. While medical usage is common, essential oils can also be a great item to have around the house to help with laundry, cleaning, and making everything smell amazing
Want to learn more about essential oils? Reach out to me at marie@mariedohertywellness.com or leave a comment below.